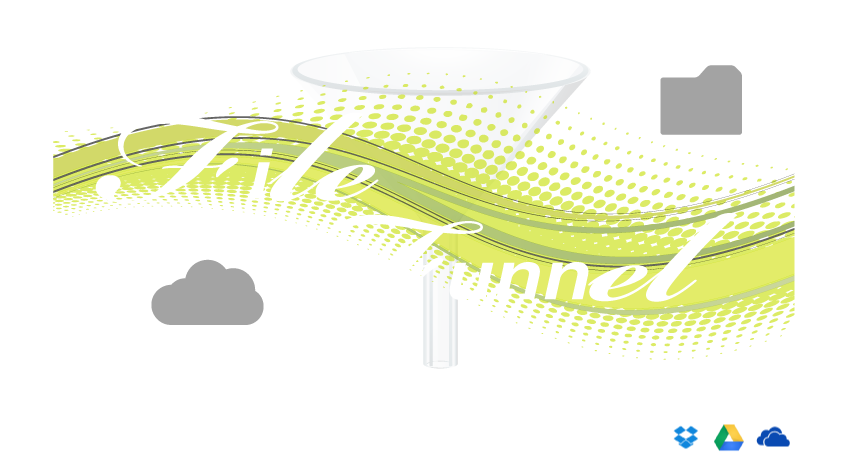 Home | Features | Screenshots
Finally! Automatically Upload & Organize All Of Your Files!
Whether you want to upload and organize hundreds of files to your Dropbox, Google Drive, or SkyDrive cloud or simply organize your disks, File Funnel is an innovative, one of a kind, one-stop app that can do it automatically! Instead of having your files scattered in multiple places, File Funnel will gather and centralize your files. Files will be organized into categories and file types that are easy to find. Stop wasting time searching for files on your Clouds, hard disks, USB flash drives, networked drives or memory cards. Instead, find them easily, already organized, and quickly access your files!
File Funnel can organize your files to the Cloud, to Disk, or both at the same time! The versatility of organizing to the Cloud makes your files available to you Wherever you are on Whatever device is in your hand!
File Funnel's Auto Scan technology will gather similar files for a particular category and file type. File Funnel will let you organize files in a way that is customized to your liking with easy preferences you can select or leave as is. File Funnel does the sorting work for you! Files are organized automatically.
Need to quickly find your Presentations on your phone, tablet, or laptop? Tap on your Presentations folder in your organized Cloud or on your organized Disk and see all of them neatly categorized. Do the same with your Pictures, Videos, Spreadsheets, Text Documents, PDFs, or whatever file types you have! File Funnel makes it all possible!
Features (Includes Unlimited Free cloud uploads and organization!):
Easily organize Clouds, entire hard disks, USB flash drives, networked drives, or memory cards
Finally gather and find all your pictures, videos, music, documents and any other file types into one place, whether to your cloud or to disk, nicely categorized!
Automatically upload to and organize your Cloud, whether you have hundreds or thousands of files, all at once!
Process all files with up to 14 different powerful settings (or leave as is). Organize Your Way!
Use the powerful Auto Scan button to automatically find the File Types available for your files. File Funnel drills down through all folders and files in your Source folder
Preview all files organized by Category, with all settings chosen, so you know where each file will be organized to - whether to your Cloud or to Disk or even both!
Export the list of all files organized before and after a funnel (to a .CSV formatted file)
View the short visual in-app Tour to learn more about all the powerful features!
Easily scroll through all Categories, File Types, and Settings chosen on the main screen
Use Snapped view to let your funnel run while you do other things. Simply drag the app to the left or right of your screen
Should you close the app in the middle of a funnel, you can continue later
View and export the detailed history of your last 5 funnels
Use the organized grouped files to easily use Windows Libraries with other apps or the Cloud!
After organization, more easily share years of files with friends, family, or co-workers
Upload unlimited amounts of files and organize your Cloud completely Free! And take advantage of an upgrade if you only want to work with your offline disks to have organized backups of your digital life!
Screenshots:
(Click below)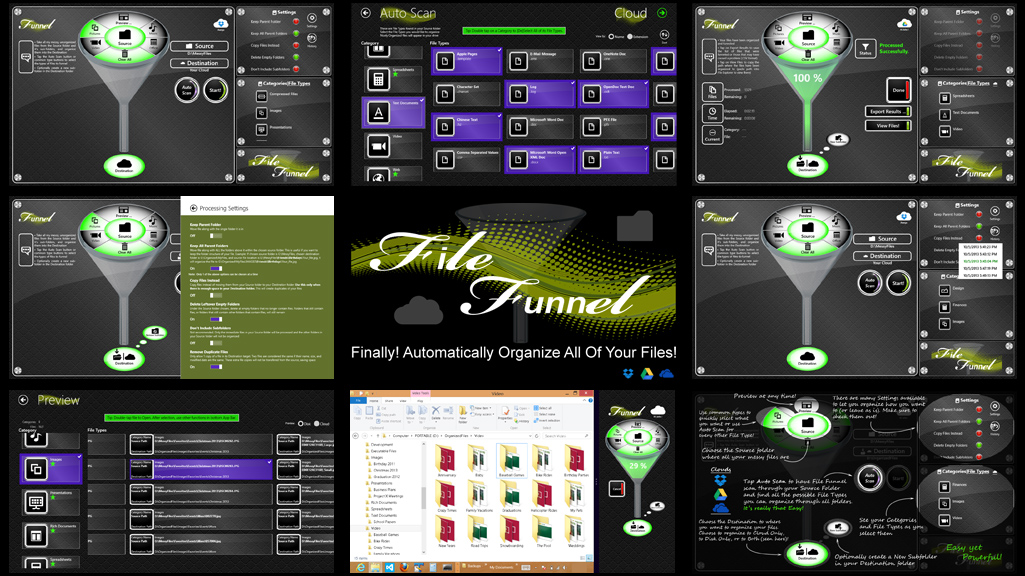 Copyright © 2013 aWeG:o Inc